Skip to main content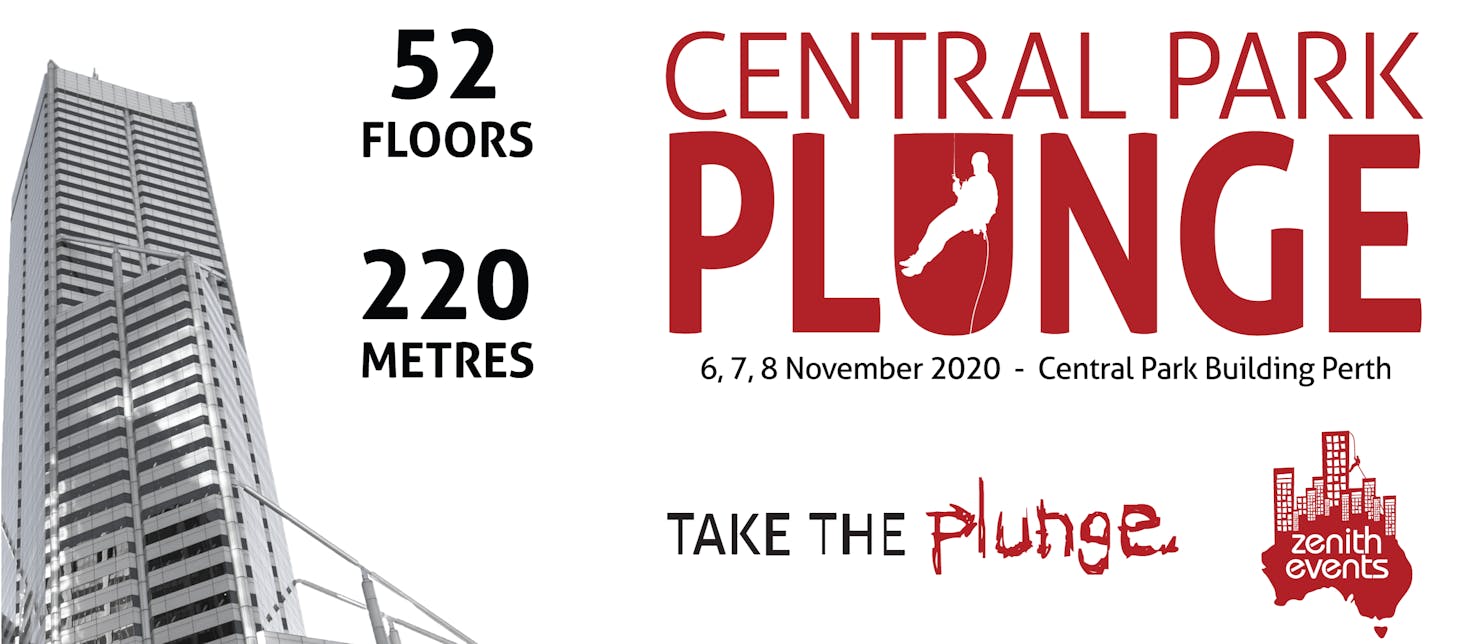 THE CENTRAL PARK PLUNGE 2020
The Central Park Plunge provides opportunity for 300 participants to abseil 220 metres from Central Park building on St George's Terrace in Perth between Friday November 6 and Sunday November 8, 2020. The Central Park Plunge aims to raise $350,000 for the Perth Charities.
In 2015, the event raised $525,000+. In 2016 the event raised $535,000+. In 2017 the event raised $573,000+. In 2018 the event raised $532,400+. In 2019 the events raised $507,000.00 bringing the total raised for WA charities to $2,672,400+ in 5 years!
Now it is your opportunity to be a part of this amazing event and experience The Central Park Plunge for yourself!
In 2020 there will be 4 descent ropes making teams of 4 participants ideal to "take the plunge". Participants can select the charity they wish to be the recipient of their fundraising. Zenith Events is pleased to announce our charity partners for the 2020 event are –
DAY 1 - Friday November 6
Ronald McDonald House Charities WA - 100 descents
DAY 2 - Saturday November 7
Guide Dogs WA - 32 descents (Early Morning)
12 Buckets – 12 descents (Morning)
Anglicare WA - 20 descents (Late Morning / Early Afternoon)
Camp Quality – 16 descents (Afternoon)
Make A Wish – 20 descents (Late Afternoon)
DAY 3 - Sunday November 8
Cahoots - 36 descents (Morning)
Prostate Cancer Foundation of Australia  - 16 descents (Midday)
MSWA - 48 descents (Late Afternoon)
Are you ready to Take The Plunge Perth? Get a team of friends, family or colleagues and register NOW!
WHAT WE HAVE ACHIEVED SO FAR!
HOW TO GET STARTED
SELECT FROM OUR PARTNER CHARITIES LISTED BELOW